EBF Brass Compression Fittings use various components to apply pressure to the outside diameter of a tube to create tightness. The accessories are installed manually and / or with wrenches and are used in applications for fluid transport.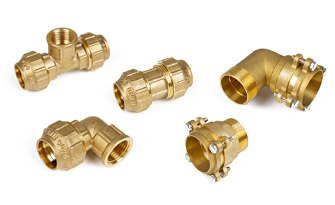 EBF brass fittings are installed with PE40 low, PE80 medium or PE100 high-density polyethylene pipes and in the following applications:
Drinking water pipe networks to supply drinking water to cities and municipalities.
Gas distribution networks.
Sanitation networks.
Storm water drainage.
Pipe networks for swimming pool installations.
Air conditioning networks.
Pipe networks for irrigation.
Transport of suspended solids in industry.
EBF fittings offer good flow characteristics because the inside of the fitting is not affected by inner bushings and depending on the application and fluids these fittings can be reused.
Our EBF fittings are manufactured from CW617N brass suitable for drinking water and are classified as PN 25