It is an integrated system of polybutylene pipes and fittings for the supply of hot and cold water in plumbing and heating installations. It is a fast, simple and reliable installation system.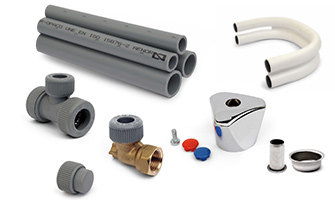 Pipes for thermal systems of hot and cold water under pressure.
Sewer systems.
Water process lines.
Heating systems.
Repairs / replacements metallic pipes (copper).
Speed ​​and flexibility. Installation time can be reduced by up to 40% compared to other systems. The pipe is more easily installed due to its flexibility and requires fewer accessories. Accessories can be rotated. No tool of any kind is required.
Pipe without memory. Pipe without memory. Roll presentation of the PBP tube in diameters 15, 22 and 28, all without thermal memory. In this way, once the tube has been removed from the roll, it extends in a practically rectilinear position.
Shock resistance. Due to its flexible properties, it means that an accidental impact or crushing does not damage it easily, thus achieving less losses.
Low thermal conductivity. Reducing heat losses in hot water installations and condensation in cold water pipes.
Silent. Thanks to the polybutylene structure, less mechanical noise is produced along the path of the pipe, eliminating the "hammer effect" by offering a much quieter operating system.
Corrosion resistant. The anticorrosive properties of the PBP pipe make it resistant to aggressive PH waters and to interior and exterior aggressions (construction materials, electrolysis, galvanic torque).
Absence of scale. In its smooth interior, no sediment is produced on its walls, avoiding the decrease of the interior section.
Hydraulic capacity. Due to its reduced thickness, it allows a greater flow, without changing its behavior at pressure and temperature.
Low pressure drop. Due to its smooth and uniform surface and its connection system that does not reduce the useful section of the water passage.
Non-poisonous. PBP pipes and fittings are completely harmless to water.
Reusable. PBP accessories are also completely removable, being of great help during installation.
Ice resistant. Its elasticity gives it exceptional resistance to ice that allows it to withstand the increase in volume caused by freezing water.